A unique coastal home
quirky and artistic, shades of blue dominate
Overlooking the British Virgin Islands this harmonious estate is as unique as it is compelling. Once inside the double entry doors, an interior open-air courtyard awaits with full view of the sea beyond. The owners' fearless creative tastes are endearing and inspiring.
The Entrance
Standing at the entrance of this artsy villa, you can see clear though to the Caribbean Sea. It beckons a warm welcome and ushers you into an interior garden courtyard.
The Dining Room
"Punkah" means fans in Hindi, and these Fanimation Punkah fans are a delightful merger of form and function. Paired with Crossville's Tuscany Herringbone plank flooring, and a Frederick Raymond Murano chandelier in glass and bronze, you are invited to dine in comfort and style.
The Lounge
The lounge, just off the dining room, is a perfect place to retire for after dinner drinks.
The Master Bedroom
The theme of slender Crossville plank flooring is continued in the master bedroom for a unifying look.
The Master Bath
Hmm, it's a tough decision whether to take advantage of the teak-lined outdoor shower, or lounge in the Porcher bathtub with its Elizabethan floor mounted tub filler and hand shower. Varaluz Capriz Shell Banana Leaf Pendants light the Ronbow cabinets and Porcher porcelain sinks.
Polished riverstone rock gently massage bare feet and create a slip–resistant surface.
The Teen's Bath
Victoria & Albert's volcanic limestone slipper tub takes center stage here in this lovely bath, especially when crowned with PLC Lighting Bubbles chandelier. But equally stunning is the LED back lit countertop by Assioma which can be set to glow in a range of colors to suit your mood. The perfect backdrop for an Oceana iridescent pebble vessel sink.
The Guest Bath
It's difficult to know where to look first! Is it the Varaluz Fascination Series mirrors and lights that grab your attention, the breathtaking sinks and countertop, or is it the fact that you have a choice between a cozy indoor shower or the seductive outdoor shower overlooking a private beach?
Guest Bath Details
Tiny starfish and seashells are immortalized in this beautiful Assioma Portofino countertop, setting the theme for an ultra tropical luxury bath. Two clear blue glass vessel sinks complete the guest's oasis, ensuring their complete comfort and relaxation.
The Staircase
A spiral staircase leads to the pool deck and game room, and spa.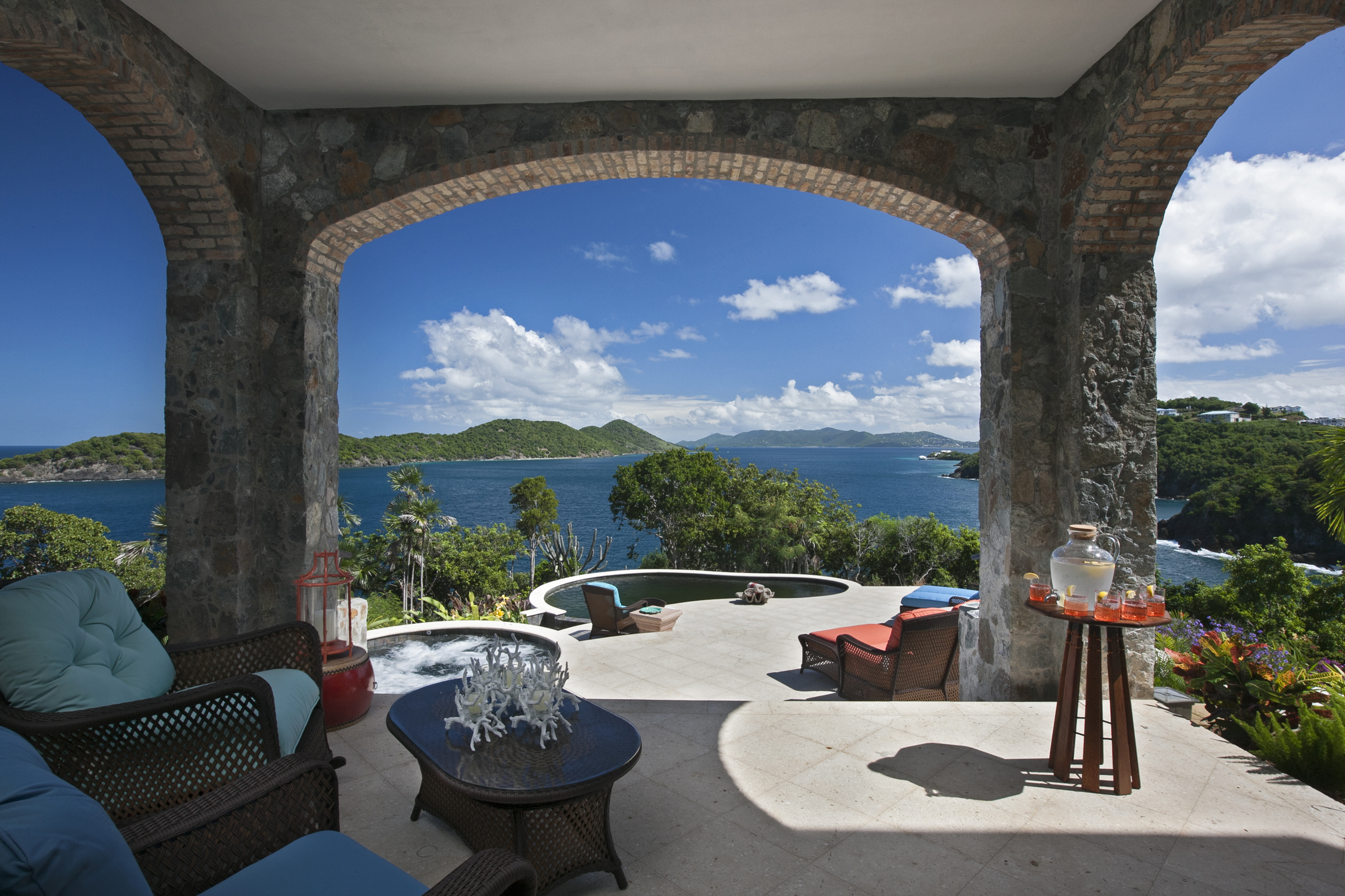 The Pool Deck
Spend your day on the pool deck with the hot tub to the left and a lagoon-styled pool up front. Considering the full bar, and grilling station, there is no need to wander far.
Exterior Lighting
At day's end, well–placed landscape lighting is enchanting with these aged bronze Kichler sconces.